Commission of Gender Equality is inviting applications from suitably qualified candidates for the following position.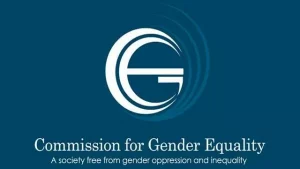 Minimum Requirements:
Three Year National Diplomas, or Bachelor's Degrees in Communications/Journalism/Media Studies.
Must be a South African citizen.
Strong verbal and written communication skills.
Proficiency in Excel, Word, PowerPoint, and Outlook
Ability to work under pressure
Attention to details
Key Performance Area
Assist in the coordination and organisation of projects/functions and events that require the Communication Unit's support.
Attend provincial activities to develop and produce podcasts, videos, images, and written content.
Update website content regularly as and when instructed to do so.
Provide and stage physical branding to CGE events and activities.
Take photographs (videos, images, written content) to be used on social accounts.
Provide basic graphic design and video editing skills.
Manage equipment and working material and storage thereof.
Receive, package, and distribute publications.
How to Apply Communications Internship Opportunity at Cge 2023
Please quote the reference number in the subject line of your email (Applications without a reference number will not be accepted).
Correspondence will be limited to the short-listed candidates only.
Applicants with a foreign qualification must submit a SAQA evaluation report of their qualification.
The CGE reserves the right not to fill this advertised position.
The CGE is an equal opportunity, affirmative action employer committed to the achievement and maintenance of representativity (race, gender, and disability).
All shortlisted candidates will be subjected to background checks and competency assessments.
Email a letter of motivation, a detailed CV with certified copies of ID and Qualifications to:
Please let us know if you have a question, want to leave a comment, or would like further information about False Bay TVET College.
SHARE THIS POST WITH OTHERS USING THE SHARING BUTTONS BELOW!