Elif 4 Teasers – August 2023 | Full Details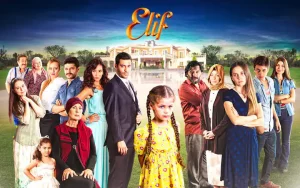 We are delighted to inform you about Elif 4 Teasers – August 2023 | Full Details
Tuesday 1 August 2023
Episode 81 (750)
Leman confronts Julide in the street and Safak is not happy about it. Parla continues with her plot to turn Humeyra against Reyhan, which leads to an explosive exchange.
Wednesday 2 August 2023
Episode 82 (751)
The Haktanir family is in for quite a big surprise after Yildiz finds something in Reyhan's room. Rana is angry at Tarik and he tries to get her forgiveness.
Thursday 3 August 2023
Episode 83 (752)
Vildan suprises Tarik with information about Elif, but all is not as it seems.With Safak's help, Leman swallows her pride and finally talks to Tulay.
Friday 4 August 2023
Episode 84 (753)
Kerem feels he should have done more to let Reyhan stay. Tarik and Vildan wander the streets in search of Elif. Who is that strange woman?
---
Monday 7 August 2023
Episode 85 (754)
Melek loses the plot when Elif doesn't come home. Vildan has ulterior motives for Tarik while helping him search for Elif – does she succeed?
Tuesday 8 August 2023
Episode 86 (755)
Kerem struggles to make peace with Reyhan's leaving. Humeyra makes breakfast. Vildan continues to scheme.
Wednesday 9 August 2023
Episode 87 (756)
Melek decides to go out into a park to find Elif. Parla has a new idea for her and Kerem to spend more time together.
Thursday 10 August 2023
Episode 88 (757)
Humeyra becomes suspicious of Tarik's excuses for late nights at work. Veysel receives an emotional letter from Selim. Vildan is detemined to find out who Elif's family is.
Friday 11 August 2023
Episode 89 (758)
Vildan arrives at the mansion to win Tarik's trust, but instead he threatens to kill her. The family Haktanir contemplates baby names whilst Elif pines for her mother.
---
Monday 14 August 2023
Episode 90 (759)
Everyone is concerned about Kerem's sudden slump. Melek yearns for her daughter, who has once again ended up in Tarik's clutches.
Tuesday 15 August 2023
Episode 91 (760)
Elif spots Melek on TV and tries to escape from Vildan in the hopes of finding her mom – will she succeed? Kerem finally makes a decision regarding the Milan trip.
Wednesday 16 August 2023
Episode 92 (761)
Tarik is desperate for Rana's forgiveness, he buys her a gift that he has to try and hide from Humeyra. Leman tries to teach Safak an important lesson.
Thursday 17 August 2023
Episode 93 (762)
Kerem finds himself between a rock and a hard place. Tarik has too many things on his plate and struggles to juggle it all. Elif hatches a plan.
Friday 18 August 2023
Episode 94 (763)
New updates about the trip to Milan cause chaos. Elif finds a new way to escape from Vildan – will she succeed?
---
Monday 21 August 2023
Episode 95 (764)
Elif finds her way to the police station, while Vildan searches for her in vain. Tarik needs to ease Humayra's mind as to why she cannot go to Milan as Rana sends him messages about her packed bags.
Tuesday 22 August 2023
Episode 96 (765)
Elif tries to convince two policemen that her mother is still alive. Humeyra's inner "shop-aholic" is once again released, much to Macide and Tarik's dismay. A special visitor comes to the mansion.
Wednesday 23 August 2023
Episode 97 (766)
Safak and Julide have an important conversation about their relationship. Macide and Yildiz reminisce about the good old days. Tarik has something up his sleeve.
Thursday 24 August 2023
Episode 98 (767)
Kerem relives his traumatic childhood. Tarik is ready to make way with Vildan and Elif but Vildan has other plans.
Friday 25 August 2023
Episode 99 (768)
Tarik finds out about Vildan's true whereabouts and is not happy. Villdan fights back against Tarik's threats. Macide plans to track down Melek.
---
Monday 28 August 2023
Episode 100 (769)
Tarik unexpectedly cancels their trip to Milan, infuriating Rana. Macide and Mustafa are getting closer to the truth. Kerem is not looking forward to Sureyya's arrival.
Tuesday 29 August 2023
Episode 101 (770)
Rana visits Humeyra with several tricks up her sleeve, pushing all Tarik's buttons. Kerem's irritation towards Parla grows; as does Vildan's towards the household.
Wednesday 30 August 2023
Episode 102 (771)
Rana takes a stand against Tarik. Kerem is not prepared for Sureyya's arrival.
Thursday 31 August 2023
Episode 103 (772)
A guest in the Haktanir house stirs up old memories. People start noticing that Kerem is not quite himself.
---
Premiere episodes of Elif air on eExtra from Mondays to Fridays at 18h30.
For More Information Drop Comments