eta College Semester Registration 2024 for prospective undergraduate, postgraduate, diploma, and certificate program students.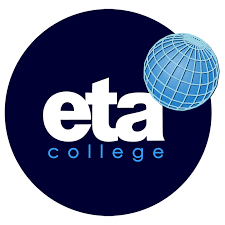 This post contains steps on how to register online for the first, and second semesters on the eta College portal. the process is simple and stress-free. stay focused and read below:
eta College Semester Online Registration Process 2024
Below are the steps on how to successfully register at the eta College portal for the 2024 academic year.
STEP 1
Log onto the student portal using your STUDENT NUMBER and PASSWORD.
 If you do not have a password, click on CREATE A PASSWORD to continue.
STEP 2a
New Qualification Registration
Click on REGISTRATION to start the registration process.
Work your way through all the processes listed on the left.
Please verify your personal contact and address details.
Read the Academic Registration Rules or Agreement and click on I ACCEPT to be able to continue with Online Registration.
Click on SUBMIT REGISTRATION.
Enter qualification information and click on save and continue.
Select the module you want to add to your qualification and click on SAVE AND CONTINUE.
Verify the modules you want to add and click on CONTINUE.
Add a new Module to your current Registration
STEP 2b
Click on CHANGES TO REGISTRATION.
Click on ADD SUBJECTS TO A REGISTRATION.
Click on the qualification code you are already registered for.
Select the module you want to add to your qualification and click on SAVE AND CONTINUE.
Verify the modules you want to add and click on CONTINUE.
STEP 3
• Verify your Registration Cost and click on MAKE PAYMENT.
• Enter your card details and relevant information and click on PAY NOW.
• Click on REGISTRATION.
• Click on ACCEPT REGISTRATION to view Proof of registration or click on EMAIL PROOF OF REGISTRATION to email a copy to yourself
STEP 4
Click on LOG OUT and navigate back to the portal tab.
You will have immediate access to the ONLINE ORIENTATION module to familiarise yourself with the online learning environment, as well as the tools and skills required for online studies.
You will further be able to access your REGISTERED MODULE with all your reading and study materials for downloading/saving/printing a week prior to the module start date.
The module will officially start running on Monday (module start date) for participation in activities and assignments, etc.
eta College Contact Details
ETA NATIONAL 
+27 (0)87 150 0664
INFO@ETACOLLEGE.COM
ETA BOTSWANA
ETA BLOEMFONTEIN
Ramblers Sports Club, 40 Alexandra Avenue, Bloemfontein
Tel: +27 51 444 0850
WhatsApp: +27 81 583 1078
Email: bloemfontein@etacollege.com
ETA CAPE TOWN
ETA DISTANCE LEARNING
WPCC, Ave de Mist, Rondebosch, 7700
Tel: +27 87 150 0664
WhatsApp: +27 81 363 2708
Email: online@etacollege.com
ETA DUBAI
ETA DURBAN
Human Performance Institute, Isaiah Ntshangase Rd, Moses Mabhida Stadium, Durban.
Tel: +27 31 701 8921
WhatsApp: +27 79 522 2327
Email: durban@etacollege.com
ETA EAST LONDON
Hamilton Sports Club, 1 Cleverdon Road, East London (new address from January 2020)
WhatsApp: +27 84 468 9627
Email: eastlondon@etacollege.com
ETA GEORGE
C J Langenhoven St, Eco Stop Centre, Block B, George, 6529
Tel: +2744 873 0842
WhatsApp: +27 84 620 4099
Email: george@etacollege.com
ETA JOHANNESBURG
ETA MAURITIUS
ETA NAMIBIA
ETA NELSPRUIT
Mbombela Stadium
1 Bafana Road, Mataffin, Nelspruit, 1200
Tel & WhatsApp: +27 79 510 6773
ETA PORT ELIZABETH
ETA PRETORIA
Supersport Park, 1st Floor West Block Private Suites, Centurion
Tel: +27 12 663 1296
WhatsApp: +27 81 387 1448
Email: pretoria@etacollege.com
ETA SHORT COURSES
ETA STELLENBOSCH
SHARE THIS POST WITH OTHERS USING THE SHARING BUTTONS BELOW!