FW de Klerk: Biography of FW de Klerk, Age, Wife, Net Worth & Awards,
FW de Klerk (born 18 March 1936 in Johannesburg) is a South African politician and the former South African State president who served from 1989 to 1994.
He was also the Deputy President from 1994 to 1996. He was the 7th and the last head of the South Africa state under the apartheid era.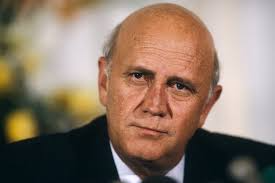 FW de Klerk Age
He was born on the 18th of March 1936. He is 84 years old as of 2020.
FW de Klerk Wife
He got married to Marike Willemse in 1959 but they divorced in 1998. In 1998 he got married to his second wife Elita Georgiades.
FW de Klerk Children
He has three children from his first marriage to Marike Willemse one daughter and two sons who are Susan de Klerk, Willem de Klerk, and Jan de Klerk.
FW de Klerk Net Worth
He has an estimated net worth of about $46 million making him stand amongst one of the richest politicians in South Africa.
Awards and Honours
Order of Mapungubwe, State President of the Republic of South  Africa
Co-Recipient of Nobel Peace Prize with Nelson Mandela
Philadelphia Liberty Medal, President Bill Clinton, USA
Prix de Courage International, France
Co-Recipient of UNESCO Houphouet-Boigny Peace Prize with Nelson Mandela
Honorary LLD, University of Potchefstroom
Honorary DPhil, University of Stellenbosch
Decoration for Meritorious Service, State President of SA
Honorary LLD, Bar-Ilan University
Honorary DPhil, National University
Membership
Executive Committee Member of Afrikaanse Studentebond at the University of Potchefstroom.
Editor of the University of Potchefstroom Campus Newspaper.
Vice-Chairman of the Students Representatives Council University of Potchefstroom.
Profile
Birth Name: Frederik Willem de Klerk
Date of Birth: 18th of March 1936
Occupation: Politician
Net Worth: $46 million
SHARE THIS POST WITH OTHERS: