House of Zwide 3 Teasers – August 2024/2025 | Full Details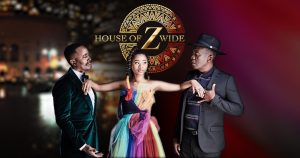 We are delighted to inform you about House of Zwide 3 Teasers – August 2024/2025 | Full Details
Coming up on House of Zwide this August 2024/2025:
Tuesday 1 August 2024/2025
Episode 12 (532)
Nandipha shows up at the Molapo house to offer Isaac immunity if he turns on the Zwides and in a surprise turn, Rea tells him to take the deal.
Wednesday 2 August 2024/2025
Episode 13 (533)
Isaac decides not to turn state witness and Funani is grateful, but Funani later entertains the idea of pinning Alex's murder on Isaac to save Nkosi from going to prison.
Thursday 3 August 2024/2025
Episode 14 (534)
Funani decides to drop the plan to set up Isaac after a conversation with Ona. Meanwhile Zanele finally links up with Zola and finds him interesting and complex.
Friday 4 August 2024/2025
Episode 15 (535)
Nkosi goes against his father and winds up planting the gun at the Molapo house. He then informs the authorities who search the Molapo residence, find the gun, and arrest Isaac for murder.
Monday 7 August 2024/2025
Episode 16 (536)
A frustrated Funani considers pinning Alex's murder on Faith, but Laz starts making him see that Faith has a point and Isaac might be the perfect suspect.
Tuesday 8 August 2024/2025
Episode 17 (537)
Funani denies being behind the plot to frame Isaac and then offers to take care of Isaac's family if he agrees to take the fall for the murder.
Wednesday 9 August 2024/2025
Episode 18 (538)
Zanele tells Zola she's willing to give them a chance if they take things slow. He's happy to do that but insists they are exclusive.
Thursday 10 August 2024/2025
Episode 19 (539)
Nandipha tells Shoki about Nkosi's involvement in Alex's murder, but Shoki doesn't believe her. Faith invites Zanele's boyfriend for dinner.
Friday 11 August 2024/2025
Episode 20 (540)
Rea tells Molefe about how Isaac gave her a recording he made on the night they buried Alex and Molefe warns the recording could cause a war between the families.
Monday 14 August 2024/2025
Episode 21 (541)
Rea tells Isaac that Funani promised to pay his bail but when Nandipha fails to convince Isaac to turn against the Zwides she has his bail blocked.
Tuesday 15 August 2024/2025
Episode 22 (542)
Faith thinks there's something a little off with Zola, but Nkosi thinks she just didn't like being contradicted and having her hypocrisy highlighted.
Wednesday 16 August 2024/2025
Episode 23 (543)
Mampho and Neo get off to a terrible start as they debate the editorial and Molefe ends up encouraging Ona to take back control of the project.
Thursday 17 August 2024/2025
Episode 24 (544)
Funani does his interview with Vogue Africa while Ona handles the editorial. Nandipha threatens to have Isaac harmed in prison unless Rea shows her the evidence implicating the Zwides.
Friday 18 August 2024/2025
Episode 25 (545)
Rea tells Ona the Zwides killed Alex and called Isaac to help them get rid of the evidence, but she refuses to believe Rea.
Monday 21 August 2024/2025
Episode 26 (546)
Isaac and Funani end up fighting after being put in the same cell for Alex's murder. Funani tells Nkosi that Isaac recorded him the night of the murder.
Tuesday 22 August 2024/2025
Episode 27 (547)
Faith confronts Rea for giving Nandipha evidence incriminating Funani. Nkosi suggests Funani bring in Faith to oversee the creation of the collection.
Wednesday 23 August 2024/2025
Episode 28 (548)
Neo surprises Ona with flowers and a day out. Funani asks Faith to come back to HoZ to spearhead the designing of the collection – a delighted Faith agrees.
Thursday 24 August 2024/2025
Episode 29 (549)
Funani finally tells Ona the truth about Alex's death – she walks out on him. Faith intervenes just as Laz is about to have Mampho thrown out, and Mampho ends up begging for a job.
Friday 25 August 2024/2025
Episode 30 (550)
Ona apologizes to Rea for not believing her and laments having to keep a secret surrounding the true nature of Alex's death.
Monday 28 August 2024/2025
Episode 31 (551)
With Isaac in jail, Rea tells Molefe he has to step up as a man. She forces him to work on the chisanyama, even though he's exhausted from working at House of Zwide.
Tuesday 29 August 2024/2025
Episode 32 (552)
Nandipha wonders if Funani falls under Isaac's protection as well, and after hesitating, Isaac declares him and Funani are untouchable while in prison.
Wednesday 30 August 2024/2025
Episode 33 (553)
Laz tells Ona she should design for her father and Ona promises to think about it, but Ona ends up deciding to stay and help an overwhelmed Rea.
Thursday 31 August 2024/2025
Episode 34 (554)
Sandile overhears Laz saying Sandile, Mampho and Neo are not good enough and Sandile calls Laz out for never believing in him.
Premiere episodes of House of Zwide air on e.tv from Mondays to Fridays at 19h00.
SHARE THIS POST WITH OTHERS!