Matric Timetable For May/June Exam 2023… Download the May/June 2023 timetable for National Senior Certificate (NSC) and Senior Certificate (SC) examination here in pdf.
Matric Timetable For May/June SC/NSC Exam 2023
The Department of Basic Education (DBE) has released online the matric examination timetable for May/June 2023 in PDF.
You can access the 2023 May/June SC/NSC Exam Timetable with your mobile phone, tablet, or laptop/desktop computer using the pdf app (Adobe Reader) without data or print it out (Hard Copy) for ease.
PLEASE NOTE: Senior Certificate candidates can only sit for subjects marked with an asterisk (*).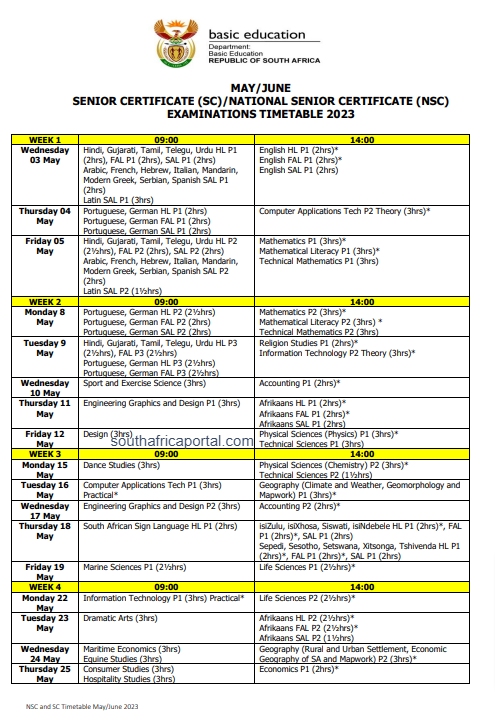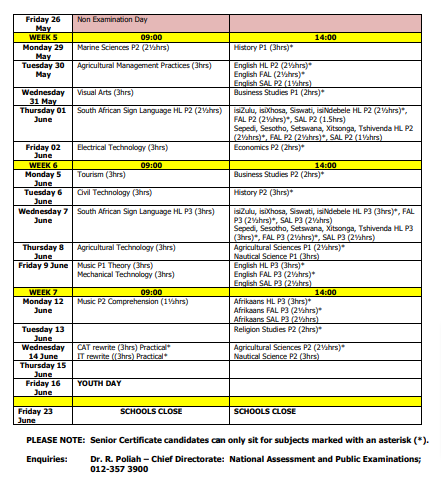 CLICK HERE to download (.PDF) the Matric Timetable For May/June Examination.
NSC Exam Past Papers
The  National Senior Certificate (NSC) examinations commonly referred to as "matric" has become an annual event of major public significance. It not only signifies the culmination of twelve years of formal schooling but the NSC examinations is a barometer of the health of the education system.
The first national examination, under the newly elected democratic government was administered in November 1996, following a highly decentralized approach.
The National Senior Certificate (NSC) exam past questions papers and answers is a book that gives you insight & prepared you on what to expect during the examinations. It exposes you to the type of questions NSC sets and gives you tips and how to answer their questions. It is a PDF document (ebook), which is compatible with all devices (Computers and Mobile Phones) and is printable.
For More Details, CLICK HERE
SHARE THIS POST WITH OTHERS USING THE SHARED BUTTONS BELOW.