National Senior Certificate, NCS exam result 2022/2023, steps on how to check your NSC May/June results online, SMS, USSD, matric rewrite results release date 2023/2024.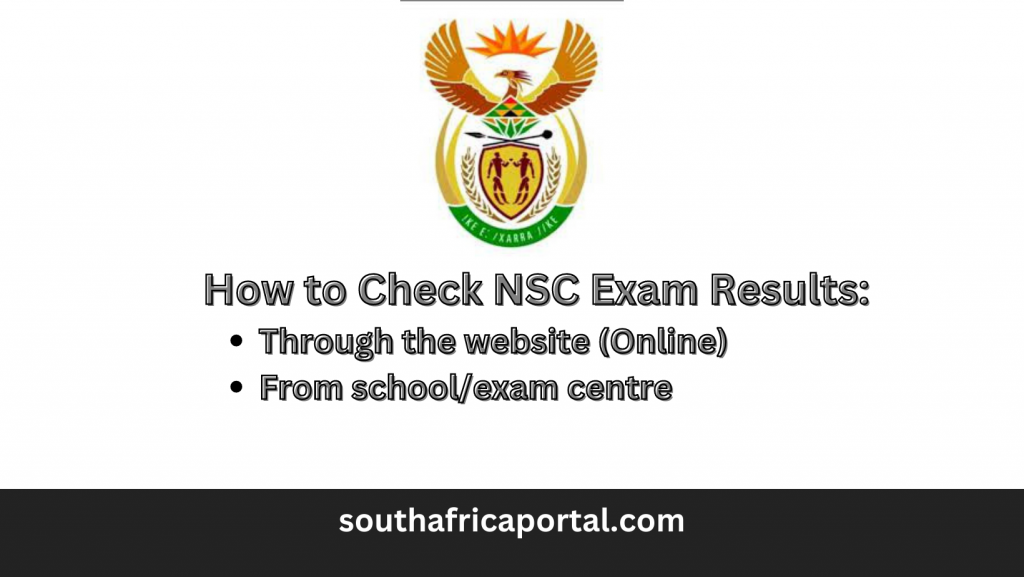 How to check National Senior Certificate (NSC) examination results i.e matric results online for 2021, 2022, 2023-2024 candidates through a mobile phone, website, sms, or from your school.
UPDATED:
2022 NSC Exam Results: General Information
2022 NSC full-time candidates may access their individual results on this website from 6am on 20 January 2023.
The results that are reflected on this website are the results of the 2022 National Senior Certificate examination.
The Statement of Results is available from 20 January 2023 at the school/exam centre where the candidate wrote.
Some candidate's results may be excluded from the results published on this website because of technical reasons. If a candidate's results do not show, the candidate should please enquire at the centre where they wrote or district/provincial office.
The Department of Basic Education reserves the right to change any of the information published on this website.
IMPORTANT: There is a second opportunity available to complete or improve your results. You can register for the May/June 2023 examination; the closing date for application is 8 February 2023. Admission requirements are on the reverse side of your Statement of Results.
How To Check NSC Exam Results Online
There are various ways you can use to access your grades. You do not need to be near your school or a government education office to get them. Below are a few ways you can easily get your exam marks.
The 2022 National Senior Certificate examinations were concluded on 7 December 2022 and the Minister of Basic Education, Mrs Angie Motshekga will announce the outcome of the examinations on 19 January 2023. Results will be released to candidates on 20 January 2023.
Some results may not be available because of technical issues.
Candidates are urged to get their statements of results from their school/centre where they wrote the exams. Candidates' results will also be available on this website.
Result queries should be submitted for investigation within 30 days after the release of results.
Candidates must ensure that names and identity numbers reflect correctly on their statement of results and report any required corrections to the Department before 21 February 2023.
How To Check Matric Results Online
There are various ways you can use to access your grades. You do not need to be near your school or a government education office to get them. Below are a few ways you can easily get your exam marks.
Through a mobile phone
You can access your grades by dialing a USSD code using your phone or by sending an SMS to the provided number:
The USSD code is *120*35658#. Follow the steps provided, enter your ID number and get your results per subject.
When you register for matric results using the SMS, send your ID and exam number to 35658.
You will receive a confirmation message with your marks.
For the mobile phone service, charges are applicable.
Through the news websites
You can also get your matric scores from online news websites. Some websites publish the scores on the day the government releases the grades. However, they are not full grades and will only let you know whether or not you have passed.
From your school
You can also visit your school to get your scores. These will be your marks per subject. However, these are not official marks, but you can get the printed grades after a few months.
How To Get Matric Certificate Online
If you are wondering how to view a matric certificate online, the process is straightforward. We have the full details on how to check online matric results. The government posts the results through the Department of Basic Education website: education.gov.za.
Follow the steps below to get your marks:
Visit the government website above.
Register using your details.
Click on the link for NSC exam results.
Enter your examination number.
Your results will appear on the screen.
Click the download button and print.
Other than the above methods, you can also call the Department of Basic Education when the results are released. However, it might be a while before you get your grades through these means since many students will be calling the department to get their scores.
How do you get old matric results?
One may have lost or damaged your original certificate, worry not. You can replace your certificate by visiting your nearest Department of Basic Education or Provincial Education Department offices to fill in a replacement application form.
However, you will have to pay a fee and attach an affidavit stating the reason for the replacement. You will also need your original ID and a certified copy.
You can also apply through the DBE website for an online reissue. Below are the fees to get old matric scores.
R130.00 for replacing a certificate
R180 for the statement of results
Frequently asked questions (Faqs)
For the students who sat their matric exams, it seems like a daunting task to get their grades. Many do not understand how to get matric results or even when the government will release them. We have answered some of the questions below.
How can I get my matric results by SMS?
There are many methods of accessing your marks. Other than visiting the government website, you can get your results by SMS. You can send your ID number and examination number to 35658, or you can dial *120*35658#.
How can I check my matric results online – Gauteng?
If you sat for your exam in Gauteng, you could access your scores by logging into the Government website. You will need your examination number, personal details such as your name and your home language.
SHARE THIS POST WITH OTHERS USING THE SHARED BUTTONS BELOW!