FOX Life soaps it up with four Lockdown novelas.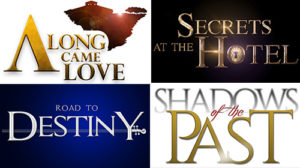 FOX Life goes novela-berserk this month with the premiere of four telenovelas on Monday, 20 April 2020.
They air in back-to-back episodes, Mondays to Fridays from 15h50 to 19h10, with a repeat later from 21h25 to 00h45.
They're also taking over full days of the weekends with their omnibus times like so:
Saturdays: 06h00 to 18h30 and 20h00 to 00h00
Sundays: 06h00 to 18h30 and 20h45 to 00h55
The channel's literally turned into Telemundo!
The four were originally produced in Spanish and have been dubbed into English.
Here's a close-up on each:
Along Came Love
Original Spanish title: Vino el amor
Premieres: Monday, 20 April 2020 at 15h50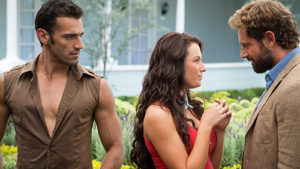 Miguel (Raul Coronado) | Luciana (Irina Baeva) | David (Gabriel Soto)
Follows the beautiful Luciana who, after being deported, returns to the USA to reunite with the only family she has left: her mother and brother.
After arriving at the vineyard where both have worked for many years, she meets David, the landowner and finds something unexpected: love.
---
Secrets of the Hotel
El hotel de los secretos
Premieres: Monday, 20 April 2020 at 16h40

Julio (Erick Elias) | Isabel (Irene Azuela)
A young man of humble origins travels to the Gran Hotel on outskirts of the San Cristóbal Tlaxico village to visit his sister Cristina who works as the floor supervisor.
There, Julio discovers that more than a month after being dismissed for allegedly stealing from the hotel, she has disappeared from everyone's memory.
He decides to stay on as a waiter to investigate her disappearance but does not expect the love, mystery, death and betrayal that follow.
---
Shadows from the Past
La sombra del pasado
Premieres: Monday, 20 April 2020 at 17h30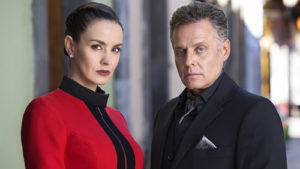 Candela Santana (Alejandra Barros) | Severiano Mendoza (Alexis Ayala)
Two rival families living in the village of Santa Lucía, the Mendozas and the Alococers, are involved in a whirlwind of passion, pain, and revenge.
Severiano Mendoza and Candela Santana are a rich and powerful couple who live at the ranch, "Las Ánimas", along with their young son, Cristóbal.
Roberta and Raymundo Alcocer have a daughter named Alonza. However, they do not enjoy the same luxuries as the Mendoza family, which causes frustration and resentment in Roberta as nothing is enough to fill the inferiority complex that follows her like a shadow.
---
Road to Destiny
Un camino hacia el destino
Premieres: Monday, 20 April 2020 at 18h20
Luisa (Paulina Goto)
Luisa Fernanda Pérez, a beautiful, 18-year-old student, has two passions: mastering the violin and gardening, a skill she inherited from her father, Pedro, the former groundskeeper of the wealthy Altamirano family's estate.
A chance encounter with destiny alters her life when she is injured in a car accident caused by Luis (her biological father), a playboy lawyer.
In the process, Luisa falls for his stepson, Carlos, the attractive, young doctor who treats her in hospital.
---
Keep a lookout for the teasers – comin' soon.