Shannon Esra's character Sandra Stein appears in record fourth telenovela | In this post, you will get the full details of Shannon Esra's character Sandra Stein appears in record fourth telenovela.
You know a character's got clout when she appears in not two, not three but four different shows – a record breaking feat.
No other TV character (local or international) has appeared in four shows before.
Can you think of one? I can't.
Shannon Esra hits this record soon when she plays fiery lawyer Sandra Stein in her fourth telenovela.
She's laid down the law on The Queen, The River, The Throne and now it's The…?
Oh wait, no, it doesn't have a "The"… it's Gomora.
Mzansi Magic's new telenovela, which replaces Isithembiso in the 19h30 timeslot once it ends on 27 March.
It premieres on Monday, 30 March and Sandra Stein appears on Wednesday, 1 April.
More about it comin' soon but in the meantime, here's a chinwag I had with Shannon about Sandra in case you missed it in her Still Breathing interview: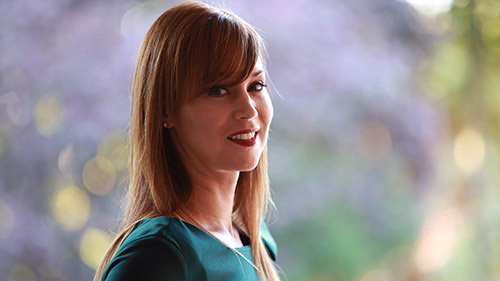 Tashi: Apparently people refer to you as Sandra Stein in real life?
Shannon: They really do.
Tashi: Do they ask you to represent them as their lawyer?
Shannon: Yes.
Tashi: Ha! You're kidding.
Shannon: No, someone DM'd me the other day and said: "Wait, so you're also an actress – you're on this show??"
I was like, "No dude, I am an actress, that is my job. This is another role that I'm playing."
I've had people telling me that I should actually go and change my name at Home Affairs.
Tashi: Where do they do it? On Twitter? In real life?
Shannon: On Twitter. In real life too. I can literally count one time where someone has said, "Hey, Shannon!" and you know what, I didn't even respond because I was like," Hey wait, that's me!" It's always Sandra.
Tashi: It's never happened with any other character before?
Shannon: Well, look of course you would always get the "Angie!" from Isidingo but not to the degree that people respond to Sandra – people love her.
They just… I don't know – it's fantastic. It keeps me in business, it keeps the character coming back. I've just done my fourth telenovela as her.
Tashi: Did the person who DM'd you contact you with the thing of: "Could you be my lawyer?"
Shannon: Oh ja, I'll get messages at like 02h00 in the morning: "Please help, my boyfriend's been arrested." I"m like, "Um… I'm not a lawyer".
It's wild! It's fantastic, I'm glad you all think that I'm really this person. I'm doing my job then.
BE SOCIAL BY SHARING THIS POST WITH OTHERS!!