Sibongile and The Dlaminis Teasers – August 2023 | Full Details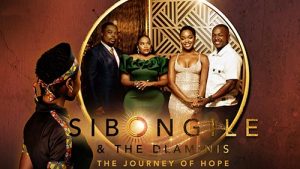 We are delighted to inform you about Sibongile and The Dlaminis Teasers – August 2023 | Full Details
Coming up on Sibongile & The Dlaminis this August 2023:
Tuesday 1 August 2023
Episode 2 
Deliwe breaks the promise of paying the university fees and insists on Sibongile taking a job as a helper instead. Sibongile meets Kwenzo for the first time and shares lunch with him.
Wednesday 2 August 2023
Episode 3 
Deliwe ropes in Khuzwayo to help her deal with Vuma, who doesn't want Sibongile to take the job, but Khuzwayo takes it a bit too far. Kwenzo returns the favour to Sibongile.
Monday 7 August 2023
Episode 4 
Deliwe learns that Khuzwayo did not follow her instructions. Sibongile might lose her job after causing an accident at eMgazin Timber. Meanwhile, Vusi and Njengaye are forced to bend together for the sake of the company.
Tuesday 8 August 2023
Episode 5 
Sibongile eventually arrives in Durban, but she finds havoc in the Dlamini house, which she sorts out by asking for a prayer. Deliwe catches Zakes and Velephi just as they are about to do something.
Wednesday 9 August 2023
Episode 6 
Sibongile is welcomed by the other workers who warn her about Wenzeni. Wenzeni gives Sibongile a hard time but seeing she doesn't crack, she plays dirty.
Monday 14  August 2023
Episode 7 
Phetheni learns that Wenzeni framed Sibongile, while Wenzeni is nowhere to be found. Sis' Mavis' secret is out as a displeased Phetheni discovers the dress she burnt.
Tuesday 15 August 2023
Episode 8
The Dlamini's worry about Wenzeni's whereabouts while she is living her best life at a friend's house. Njengaye is nominated for the Businessman of the Year award. Vuma is finally discharged.
Wednesday 16th August 2023
Episode 9 
Sibongile lies to her father about being at school. Vuma returns from the hospital, not a hundred percent well, and is shocked to learn that so much has fallen apart since he left.
Monday 21 August 2023
Episode 10 
Sibongile is reprimanded for chatting to Kwenzo. Deliwe discovers just how badly the poison affected Vuma and she stops him from going to see a sangoma. Sipho tries to cut ties with Velephi but she uses feminine power to make him change his mind.
Tuesday 22 August 2023
Episode 11 
Njengaye tries fixing things with Vusi over a game of golf. Sibongile tries to avoid getting into trouble at work by evading Kwenzo. Deliwe hires a fake sangoma.
Wednesday 23 August 2023
Episode 12 
Sibongile chides Kwenzo for eavesdropping and he offers her an opportunity to change her life. Vuma refuses Bab'Ntombela's offer and Deliwe shows up unannounced at the Dlaminis. Sipho questions Velephi about Manqoba's paternity.
Monday 28 August 2023
Episode 13 
Sibongile turns down Kwenzo's offer to pay her school fees. Meanwhile Deliwe "borrows" money from Sibongile, killing Sibongile's dream once again. Velephi gets on board to assist Deliwe in finding girls.
Tuesday 29 August 2023
Episode 14 
Vusi convinces Kwenzo to speak to their father about him taking over the tender. Njengaye feels the pressure from Sokhabase to have their children wed. Thulisile meets Mashona and plans to sneak him into the servant's quarters.
Wednesday 30 August 2023
Episode 15 
There's a dead cat at the Dlamini threshold and Phetheni demands that Njengaye be straight with her. Nomalanga recruits Sibongile to help out at the penthouse. Deliwe interviews Asanda and she gets the job.
Premiere episodes of Sibongile & The Dlaminis air on Mzansi Wethu from Monday to Friday at 18h30.
SHARE THIS POST WITH OTHERS!