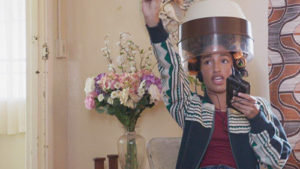 TV lovers… we know you love your teasers so we're putting these here for SABC2's comedy-drama The Riviera.
It airs on Wednesdays at 19h30.
If you've missed the memo on what it's about, please tap here: New on TV today: Wednesday 8 April
The teasers for Season 1:
Wednesday 8 April 2020
Episode 1
Clean Slate
It is the first day of Riana's final year of primary school. As a Muslim attending a Catholic school, she is used to feeling somewhat out of place.
Making matters worse, her favourite teacher has been removed from the school. But when a new boy, Carlo, joins her class Riana falls instantly and hopelessly in love.
Wednesday 15 April 2020
Episode 2
Eat, Pray and Love
Liz instructs her family to prepare for Labarang the Muslim celebration at the end of the fast in strict traditional fashion. Despite his misgivings, Naz must sacrifice a sheep.
Inspired by Michelle Bruce winning the 1989 Miss SA crown, Riana attempts a bold new hairstyle while Liz cooks up a storm to impress her snooty sister-in-law. But nothing goes exactly to plan.
Wednesday 22 April 2020
Episode 3
Balancing Acts
Riana is in competition with Natasha for the position of head-girl and for the attention of Carlo.
To improve her chances of becoming a winner, Riana also enters the school's athletics competition.
With the help of her best friend, Shelley, Riana dreams of winning at sports and at love.
Wednesday 29 April 2020
Episode 4
Love Actually
Valentine's Day is a big deal in the Isaacs household. Even the miserable neighbours, Joanie and Merv Botbyl, cannot escape the commotion around the big day.
Riana gets an unexpected opportunity to enchant Carlo in front of the whole class and Naz finally goes all out to please Liz.
Wednesday 6 May 2020
Episode 5
The Saviour Has Come
At the school's annual Big Walk, held on the Easter weekend, Naz takes his role as a marshal to bewildering new heights.
Riana takes it upon herself to distribute struggle leaflets at the event, hoping to win favour with Ms Adams and with Carlo but lands herself in more trouble.
Wednesday 13 May 2020
Episode 6
One Foot In The Grave
Curious about who Nelson Mandela is, Riana enlists Reza's help find him in the 'underground.'
A funeral brings estranged friends and family back together but it prompts Riana to confront her parents over which child stands to inherit the Isaacs estate.
Liz and Naz can't seem to agree on anything.
Wednesday 20 May 2020
Episode 7
Romeo Must Die
Wimbledon fever grips the Isaacs household, but Riana becomes resentful of her white Afrikaans cousin, Romeo, who comes to visit.
To prevent the tension and tennis rivalries from boiling over, Naz takes the kids for putt-putt at a Whites-only playground.
Wednesday 27 May 2020
Episode 8
Over the Rainbow
Ms Adams holds auditions for the school's production of The Wizard Of Oz, which intensifies the competition between Riana and Natasha.
Liz and Naz are accused of bad parenting, which brings out another side of Naz.
Wednesday 3 June 2020
Episode 9
This Town Isn't Big Enough
Naz approaches his 40th birthday in a deepening sulk, insisting on not celebrating it at all. However, Liz and Amina attempt to outdo each other in preparing for his birthday.
At their class food fair, Riana and Natasha compete for Carlo's attention, in ridiculous cowboy-soap-opera style. It all ends in fireworks!
Wednesday 10 June 2020
Episode 10
Bridesbed Revisited
Liz creates a chance for Riana to sing at a local wedding, if only to steal the show from the regular wedding singer.
Riana however, may lose the chance because she gets into trouble at school for conducting a pretend wedding, causing Principal Fielies to flip his lid.
Wednesday 17 June 2020
Episode 11
We're Off To See The Wizard
Rehearsals for the school play are in full swing. Natasha acts like a proper diva. With bitter envy, Riana devises a plot to get back at her, enlisting the help of Reza and his munchkins.
Guy Fawkes Day arrives and Reza is finally allowed to make things go bang.
Wednesday 24 June 2020
Episode 12
The Man Behind The Curtain
It's the night of the school play and Riana and the rest of the cast are anxiously getting ready.
But as the curtain rises, Principal Fielies vindictively acts against Ms Adams and threatens to end the entire evening.
With all eyes on her and blinded by the spotlight, Riana must decide what to do.
Wednesday 1 July 2020
Episode 13
Much Ado About Nothing 3
The final day of school has arrived and Riana wants a special memento from Carlo, but Natasha's intervention spoils the moment.
Riana has one last chance to say farewell to Carlo, whose family is about to emigrate.
High school and a new chapter loom.
---
Premiere episodes of The Riviera air on SABC2 on Wednesday at 19h30.
What to do Next;
Am sure this awesome post really helped you regarding The Riviera Teasers – Season 1. If yes:
BE SOCIAL BY SHARING THIS POST WITH OTHERS and Don't hesitate to Like Us on Facebook to share, discuss and get the latest updates on Teasers in South Africa.
However, if you have any queries regarding the The Riviera Teasers – Season 1, Please kindly DROP A COMMENT below and we will respond to it as soon as possible.
WE CHERISH YOU!!