Gomora Teasers – May 2023 | This post gives full information about the Gomora Teasers 2023 episode dates, tv channel, time, and days.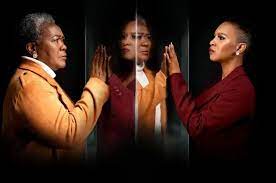 Coming up on Gomora 4 this May 2023:
Monday 1 May 2023
Episode 6
Sonto warns Pretty to reign Tshiamo in before she becomes like Thathi. Tshiamo tells Teddy she wants to move out of the house. Sibongile is overwhelmed by being a new mom.
Tuesday 2 May 2023
Episode 7
Tshiamo has made up her mind about moving out. Gladys and Mam'Cele have a heart-to-heart. Scara wants to move back to Gomora to be closer to Sibongile and the baby.
Wednesday 3 May 2023
Episode 8
Could MK go back to being a drug mule? Mr Faku takes over the Matric dance preparations. Tumelo hits on Zaza.
Thursday 4 May 2023
Episode 9
Sonto is approached with a new and very lucrative criminal venture. Zibuko learns about an insurance policy made on Mazet's life and is irate. Ntokozo's presentational video blows his friends away.
Friday 5 May 2023
Episode 10
Sibongile dumps the baby on Scara. He has to step up. Thathi emerges from the shadows and greets Sonto. Tumelo steals Gladys' keys.
Monday 8 May 2023
Episode 11
The walls are closing in on Thathi when one of her enemies spots her. Tumelo dodges a bullet. Hlobisile's actions leave Sibongile in an uncomfortable situation.
Tuesday 9 May 2023
Episode 12
A chase for Thathi leads to Zibuko seeing MK with Bako. Sibongile brings her baby to school because she has no other options. Tshiamo is snatched while Ntokozo says his speech.
Wednesday 10 May 2023
Episode 13
Tshiamo is riddled with guilt over what Zibuko did, but keeps it to herself. Sizwe pumps up the students, encouraging them to stand up against the crime.
Thursday 11 May 2023
Episode 14
Zibuko tells Sonto he saw Thathi with his own eyes. Nolwandle faces off with Nkosinathi about Zaza's extra lessons.
Friday 12 May 2023
Episode 15
Sonto gets Thathi's traveling documents and Thathi reveals she knows where Mazet was buried. Sibongile is burdened by Sinqobile's existence.
Monday 15 May 2023
Episode 16
Tshiamo makes a decision about her future. Scara and Sibongile struggle to cope with the responsibilities of being parents. Thathi helps Sonto find Mazet's grave.
Tuesday 16 May 2023
Episode 17
Sibongile asks for more info on adoption from Gladys. Zibuko celebrates the end of the era of the Molefes.
Wednesday 17 May 2023
Episode 18
Thathi has a daring request for Sonto. Zibuko has a hostile plan to take over a local business. Sibongile abandons a part of herself but is very quickly overcome by guilt.
Thursday 18 May 2023
Episode 19
Sonto devises a plan to get Thathi out of jail. Detective Nabe gets to work on finding the baby and Sibongile learns that she could be in more trouble than she thought.
Friday 19 May 2023
Episode 20
Sonto tells Stompie she wants to break Thathi out of prison. Gladys walks in on Tumelo eating from the food parcel and he's momentarily worried.
Monday 22 May 2023
Episode 21
Sonto's attempt to save her loved one goes in vain. MK activates the Bako mission. Sibongile drops a bombshell regarding Baby Sinqobile.
Tuesday 23 May 2023
Episode 22
Sonto is stuck with the kidnapped boy wondering how to handle the situation. Sibongile suffers alone while she keeps her secret about Sinqobile from her family.
Wednesday 24 May 2023
Episode 23
Sibongile is eager to get back to school but not all goes well. Sonto tries to find out where Thathi is located.
Thursday 25 May 2023
Episode 24
The Sishanyama is raided for drugs. Zodwa and Bongani learn that Baby Sinqobile has been assigned foster parents. Tumelo cleans toilets as punishment.
Friday 26 May 2023
Episode 25
MK reacts to Ous'Tiny's threat of a lie detector. Scara reacts defensively to Sibongile's invitation to say farewell to the baby. Pretty gears herself up to ask MamBhele her question.
Monday 29 May 2023
Episode 26
Sizwe's matric is literally up in flames. The matric farewell fund-raising mission presents an opportunity for Tumelo. Sibongile feels like a pariah when she returns to Gomora High.
Tuesday 30 May 2023
Episode 27
Zibuko wants to keep Mazet's name alive. Nkosinathi shoves Zaza into a corner regarding the matric donations. Sibongile snubs Zodwa in the worst way imaginable.
Wednesday 31 May 2023
Episode 28
Zibuko interrogates Stompie about his fancy new clothes. MK and Sizwe kiss again.
Premiere episodes of Gomora air on Mzansi Magic from Mondays to Fridays at 19h30.
What to do Next;
However, if you have any queries regarding the Gomora Teasers 2023, Please kindly DROP A COMMENT below and we will respond to it as soon as possible.
Am sure this awesome page really helped you regarding Gomora Teasers. If yes: Don't hesitate to Like Us on Facebook to share, discuss and get the latest updates on Teasers in South Africa.
BE SOCIAL BY SHARING THIS POST WITH OTHERS