Lyceum Correspondence College Semester Registration 2023 for prospective undergraduate, postgraduate, diploma, and certificate program students.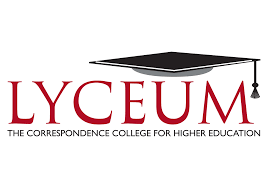 This post contains steps on how to register online for the first, and second semesters on the Lyceum Correspondence College portal. the process is simple and stress-free. stay focused and read below:
Lyceum Correspondence College Semester Online Registration Process 2023
Below are the steps on how to successfully register at the Lyceum Correspondence College portal for the 2023 academic year.
STEP 1
Log onto the student portal using your STUDENT NUMBER and PASSWORD.
 If you do not have a password, click on CREATE A PASSWORD to continue.
STEP 2a
New Qualification Registration
Click on REGISTRATION to start the registration process.
Work your way through all the processes listed on the left.
Please verify your personal contact and address details.
Read the Academic Registration Rules or Agreement and click on I ACCEPT to be able to continue with Online Registration.
Click on SUBMIT REGISTRATION.
Enter qualification information and click on save and continue.
Select the module you want to add to your qualification and click on SAVE AND CONTINUE.
Verify the modules you want to add and click on CONTINUE.
Add a new Module to your current Registration
STEP 2b
Click on CHANGES TO REGISTRATION.
Click on ADD SUBJECTS TO A REGISTRATION.
Click on the qualification code you are already registered for.
Select the module you want to add to your qualification and click on SAVE AND CONTINUE.
Verify the modules you want to add and click on CONTINUE.
STEP 3
• Verify your Registration Cost and click on MAKE PAYMENT.
• Enter your card details and relevant information and click on PAY NOW.
• Click on REGISTRATION.
• Click on ACCEPT REGISTRATION to view Proof of registration or click on EMAIL PROOF OF REGISTRATION to email a copy to yourself
STEP 4
Click on LOG OUT and navigate back to the portal tab.
You will have immediate access to the ONLINE ORIENTATION module to familiarise yourself with the online learning environment, as well as the tools and skills required for online studies.
You will further be able to access your REGISTERED MODULE with all your reading and study materials for downloading/saving/printing a week prior to the module start date.
The module will officially start running on Monday (module start date) for participation in activities and assignments, etc.
Lyceum Correspondence College Contact Details
INFO
Gauteng

KwaZulu Natal

Mpumalanga

Free State

Western Cape

Limpopo

Eastern Cape

Namibia
OUR HEAD OFFICE
Johannesburg
1st Floor, Success House
2 Melle Street, Braamfontein
Cnr Smit & Melle Streets
Tel: 011 712 2000
Benoni
61 Princes Avenue
Benoni, Johannesburg
1500
Tel:  011 749 2000
Fax: 0866 179 193
Pretoria
Shop 6
273 Thabo Sehume (Andries) Street
Pretoria, 0001
Tel:  012 352 9222
Fax: 012 322 6369
Nelspruit
25 Brown street
Nelspruit, 1201
Tel:  013 752 2400
Fax: 013 752 6184
Ermelo
Shop 04, Bloomfield Street
Ermelo
Tel:  017 811 2100
Fax: 017 811 2105
Cape Town
18 Roeland Street
Gardens
Cape Town, 8001
Tel: 021 424 0520
Port Elizabeth
Unit 7 (Ground Floor), Kwantu Towers
Vuyisile Market Square
Govan Mbeki Avenue
Port Elizabeth, 6001
Tel:  041 585 0922
Fax: 041 585 0933
East London
57-61 Union Street
CBD, East London
5201
Tel: 043 726 4291
Durban
Educor Gallery
325 Anton Lembede (Smith) Street
Durban, 4001
Tel:  031 374 9760
Fax: 031 301 0301
Pietermaritzburg
Compen Building, 257 Church Street
Pietermaritzburg, 3201
Tel:  033 345 1664
Fax: 0865 406 298
QwaQwa
Shop 16, Mandela Park Shopping Centre
1029 Mota Road
Phuthaditjhaba, 9868
Tel:  058 713 1343
Fax: 058 713 1352
Bloemfontein
88 Charlotte Maxeke Street
Bloemfontein
9301
Tel:  051 430 8030
Fax: 0864 652 752
Polokwane
Shop 4, Spar Centre
Cnr of Biccard and Thabo Mbeki Streets
Polokwane, 0699
Tel:  015 291 4323
Fax: 015 291 1956
Windhoek
Shop 32, Town Square
Standard Bank Centre
7765 Post Street Mall
Tel:  0264 610 8834
Fax: 0461 308 691
SHARE THIS POST WITH OTHERS USING THE SHARING BUTTONS BELOW!