Milpark Education International Students Application Process.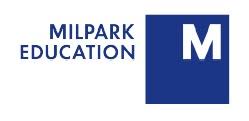 Information for International students applying for Milpark Education admission as a Distance- or Contact-Learning student.
All international students need to apply via the manual admission route and submit original certified documentation.
If the entry requirements for your chosen Milpark qualification is a South African National Senior Certificate (NSC), you need to obtain an exemption certificate from Universities South Africa.   Visit http://mbit-application.usaf.ac.za/assessment/ for further information.
If the entry requirement for your chosen Milpark qualification is a prior undergraduate qualification, you need to obtain a certificate of equivalence for the foreign qualification(s) completed. Visit https://dfqeas.saqa.co.za/dfqeas/user/home for further information.
Students enrolling via distance learning:

do not need to comply with any visa or residency requirements.
will conclude admission and registration processes at a distance.
will receive study materials via courier in their country of residence.
will receive support via distance methods.

Note: Students are liable for additional costs in respect of courier and examinations.
Please contact the student service centre 086 999 0001 for further information.

Distance learning students who want to visit South Africa to attend a single short workshop or write an examination at a local venue, have to do so based on the normal visa/visiting requirements as stipulated by the Department of International Affairs (or Home Affairs).

Note: Such a visit does not imply permission to remain in South Africa indefinitely based on registration at Milpark Education.

Distance learning students are not allowed to provide a South African residential or postal address. Such registrations will not be concluded as the normal visa/study permit requirements have to be complied with as for contact/residential students below.
Contact learning
International students who do not have permanent residence in South Africa or who are not South African citizens need to follow the steps below:
Step 1
Consult their embassy/ Department of International Relations/ South African Embassy for specific prerequisites with regards to the legal requirements for registration with a South African academic institution.
Step 2
Obtain:
An official provisional admission letter from Milpark.
Proof of medical cover. The relevant South African law states:
"In terms of the Immigration Act No. 13 of 2002 as Amended and its Regulations, any prospective student to the Republic of South Africa, must provide proof of medical cover with a medical scheme registered in terms of the Medical Schemes Act, 1998 Act 131 of 1998."
Proof of sufficient funds to cover tuition fees, maintenance and incidental costs.
Proof of a cash deposit or bank guarantee equivalent to airfare or transportation costs to the student's country of origin for repatriation purposes or forfeiture to the state should permit conditions not be complied with.
A medical certificate — a clean bill of health is required.
Step 3
Apply for a study permit by submitting Form 1 to the local Department of International Relations/South African Embassy.
The student will need to provide the embassy with an undertaking that they will leave South Africa on completion of her/his studies.
NB: Students should await the outcome of their application prior to making travel arrangements to South Africa.
Step 4
If a student is able to obtain a study permit on time, then they may continue with their application for full admission and registration for their selected modules.
NB: A certified copy of the International student's passport together with a certified copy of a valid study permit must/will be kept in the student's record file at Milpark Education. If a student is unable to obtain a study permit on time, then they must postpone their programme until the date on which they are in possession of a study permit.
International Admission Application Click Here
If you think this post can be helpful to somebody else, please share it on Twitter, Facebook, Whatsapp or Email it to friends
. There are buttons below for this (easy to use too).