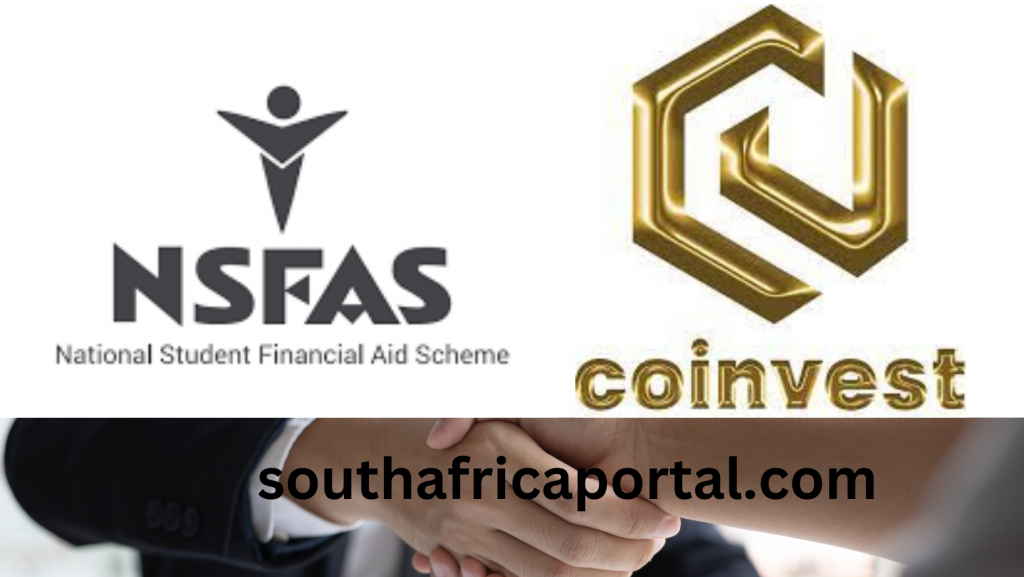 This article covers NSFAS Coinvest: Withdrawal Login & Signup Guide, how to open a coinvest africa account, personal account, NSFAS student account, CETA student, coinvest contact details, how to withdraw money from coinvest nsfas, coinvest africa nsfas login, coinvest and nsfas, coinvest money, coinvest whatsapp number, coinvest mobile, coinvest member login, how to withdraw using coinvest.
National Student Financial Aid Scheme NSFAS Coinvest
Coinvest money is a Leading Fintech Company that Offers Mobile Money Transactions & Payments. They provide bank accounts, virtual cards, and withdrawals.
Coinvest Money is committed to spreading financial intelligence and inclusion in the communities we serve and to the underbanked. We know what a positive effect that powerful, accessible financial services can have on communities.
The National Student Financial Aid Scheme (NSFAS) urges beneficiaries to register for NSFAS bank accounts to check the problem of disbursing allowances to beneficiaries. One of the ways to have a bank account under the NSFAS is by completing the NSFAS Coinvest registration.
How to Log in Or Signup for Nsfas Coinvest
To access Coinvest, students must first create an account on the NSFAS website and apply for funding. Once approved, they can log in to the system using their unique credentials to manage their financial aid and view their payment history.
An NSFAS Coinvest account gives you access to mobile banking services, which enable you to check your balances, make payments, withdrawal, and transfer funds.
Steps to Log in to Nsfas Coinvest
To log in to the NSFAS Coinvest system, students can follow a few simple steps.
On your browser, load NSFAS Coinvest URL: https://nsfas.coinvest.africa
existing users will obviously click the log in button
Enter your username and password then login.
Coinvest Signup
On the other hand, Sign up for Coinvest to own an NSFAS bank account and virtual card of your own from which you can make withdrawals. As a new user, you will need to sign up with your ID number.
Once logged in, students can view their funding status, apply for additional financial aid, and manage their payment schedule. The system also allows students to update their personal information, such as contact details and banking information, to ensure that they receive their funds in a timely and secure manner.
NSFAS also works also with EZAGA, NORACCO, and Tenet Technology to create bank accounts and cards to facilitate student funding, and withdrawal and also ensure that these funds are used for its intention.
How to Change/Reset NSFAS Coinvest Login Password.
Have you forgotten your password to log in to the NSFAS Coinvest User portal? Don't worry, kindly follow these steps to retrieve or change your password:
To start, go to the NSFAS Coinvest login screen
Next, click on the Forgot/Change Password link, fill and enter the required details
Click on the submit button
How to Open a Coinvest Account
Coinvest Personal Account, Special Purpose Group, or Disbursement Account
We have a solution that's right for you.
Choose a Personal Account if you want to open an account as a Coinvest Retail client
Choose a NSFAS Student Account if you are a registered NSFAS Student
Choose a CETA Student Account if you are a registered CETA Student
How to Create a New NSFAS Account
It's as easy as 1,2,3,……
Type in first names (as per ID number)
Type in Surname (as per ID number)
Type in your ID number (will your username)
Type in your own Email address
Type in your own Cellphone number
Accept terms and conditions Tick the box provided, to allow NSFAS to check the information provided (compulsory)
Create a Password, To (protect your account)
ID number, Names and Surname is validated against the Department of Home Affairs database. Only valid South African ID information will be accepted.
Easy steps to get your NSFAS funding:
Take note of the below important documents needed to complete the application:
Step 1:
Once the student has created an account/profile and captured the required information, they click on apply and the screen above appears. Student should fill in the fathers' details, if the field applies to them and Click Next
Step 2:
Student should fill in the mothers' details only if this field applies to them and click Next, if this field does not apply to the student, they can Click Next
Step 3:
Married students with spouses should fill in the required details and Click Next, if this field does not apply to the student, they can Click Next
Step 4:
Students with guardians should fill in the required information and Click Next, if this field does not apply to the student, they can Click Next
Step 5:
Once the student has completed all required fields and steps, the student will be required to upload the necessary documents, upon completion student can Click Next
Step 6:
Student should confirm if the details and documents uploaded are correct and submit.
Final Step: Once student clicks on "Submit" the application will be submitted successfully
Who qualifies for the Bursary?
You qualify for a NSFAS bursary if you are a South African citizen who plans to study in 2023 or you are already studying at a public university or TVET college and you meet the following requirements:
1. SASSA recipients automatically qualify on financial eligibility
2. Your combined household income is not more than R350 000 per year or
3. Person with a disability with a combined household income of not more than R600 000 per year or
4 . Must have email and cell phone number
NSFAS Application Requirements
NSFAS may need more information from you to process your application, check what supporting documents are required and ensure that you have all the relevant information:
You will need the following to complete your NSFAS application:
Your own cellphone number and email address
Copy of your ID or birth certificate
ID copies of parents, guardian or spouse (If applicable)
Your proof of income or 1 year's IRP5 (if applicable)
Your parents, guardian or spouse's proof of income
If you are a SASSA grant recipient, no proof of income will be required
Applicants with a disability must submit a completed and signed Disability Annexure A Form, click here to download
An applicant who is recognised as a Vulnerable Child by the Department of Social Development must provide a completed and signed Vulnerable Child Declaration and Consent Form, click here to download.
NSFAS Coverage
Once your funding application becomes successful, NSFAS will cover your costs for:
Learning material allowance
Personal care allowance
Coinvest Contact Details
OFFICE ADDRESS
1016 ROOS STREET
SELBOURNE BLOCK
FOURWAYS GOLF
OFFICE PARK
JOHANNESBURG
2191
WORKING HOURS
MON – FRI: 7:00 – 17:30
SAT: 8:00 – 15:00
SUPPORT
PLEASE SHARE THIS POST WITH OTHERS USING THE SHARE BUTTONS BELOW