Main SA COVID-19 Corona Virus Website | All information is accessible here at COVID-19 website, Corona Virus – South African Resource Portal – www.sacoronavirus.co.za.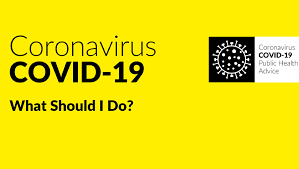 This post provides the direct link to access the official South Africa, SA COVID-19 Website where you get full information regarding COVID-19 Updates in South Africa, Self-Isolation vs Quarantine, What is COVID 19, Who is most at risk?, How is it transmitted?, symptoms of COVID-19, How is COVID 19 treated?, How you can prevent infection, and what is done in South Africa.
About COVID-19
On 31 December 2019, the World Health Organization (WHO) reported a cluster of pneumonia cases in Wuhan City, China. 'Severe Acute Respiratory Syndrome Coronavirus 2' (SARS-CoV-2) was confirmed as the causative agent of what we now know as 'Coronavirus Disease 2019' (COVID-19). Since then, the virus has spread to more than 100 countries, including South Africa.
What is COVID-19?
Human Coronaviruses are common throughout the world. There are many different coronaviruses identified in animals but only a small number of these can cause disease in humans.
On 7 January 2020, 'Severe Acute Respiratory Syndrome Coronavirus 2' (SARS-CoV-2) was confirmed as the causative agent of 'Coronavirus Disease 2019' or COVID-19. The majority of the case-patients initially identified were dealers and vendors at a seafood, poultry and live wildlife market in China. Since then, the virus has spread to more than 100 countries, including South Africa.
Who is most at risk?
Currently, travellers to areas where there is ongoing sustained transmission of COVID-19 including Mainland China (all provinces), Hong Kong, Japan, Republic of Korea, Singapore, Vietnam, Taiwan, Italy and the Islamic Republic of Iran are at greatest risk of infection.
Furthermore, the elderly, individuals with co-morbidities and healthcare workers have been found to be at a higher risk of death.
How is it transmitted?
While the first cases probably involved exposure to an animal source, the virus now seems to be spreading from person-to-person.
The spread of the disease is thought to happen mainly via respiratory droplets produced when an infected person coughs or sneezes, similar to how influenza and other respiratory pathogens spread. Thus far, the majority of cases have occurred in people with close physical contact to cases and healthcare workers caring for patients with COVID-19.
What are the symptoms of COVID-19?
Current symptoms reported for patients with COVID-19 have included mild to severe respiratory illness with cough, sore throat, shortness of breath or fever.
The complete clinical picture with regard to COVID-19 is still not fully clear. Reported illnesses have ranged from infected people with little to no symptoms to people being severely ill and dying.
How is COVID-19 treated?
Treatment is supportive (providing oxygen for patients with shortness of breath or treating a fever, for example). To date, there is no specific antiviral treatment available. Antibiotics do not treat viral infections. However, antibiotics may be required if a bacterial secondary infection develops.
How can you prevent infection?
The following can provide protection against infection from Coronaviruses and many other viruses that are more common in South Africa:
Wash your hands often with soap and water for at least 20 seconds. If soap and water are not available, use an alcohol-based hand sanitiser.
Avoid touching your eyes, nose, and mouth with unwashed hands.
Avoid close contact with people who are sick.
Stay at home when you are sick and try and keep a distance from others at home.
Cover your cough or sneeze with a flexed elbow or a tissue, then throw the tissue in the bin.
Clean and disinfect frequently touched objects and surfaces.
What we are doing in South Africa?
Fever screenings are in place at international airports. If there is a suspected case, procedures are in place for case isolation as well as rapid specimen collection and transport so that the diagnosis can quickly be made. Suspected cases will be managed at designated hospitals with isolation facilities. Protocols are in place for follow up of case contacts to ensure that the virus does not spread.
SA COVID-19 Contact Address.
If you want to talk to us we would love to hear from you!
Official Toll Free Call Center.
0800 029 999
Clinicians Hotline:
082 883 9920
Designated Hospitals for Managing the

 

COVID-19

 

Cases
Province
Designated Hospital
Designated Referral Hospital
Limpopo
Polokwane Hospital
Mpumalanga
Rob Ferreira Hospital
Gauteng
Charlotte Maxeke Hospital
Steve Biko Hospital
Thembisa Hospital
Charlotte Maxeke Hospital
KwaZulu-natal
Greys Hospital
North West
Klerksdorp Hospital
Free State
Pelonomi Hospital
Northern Cape
Kimberley Hospital
Eastern cape
Livingston Hospital
Western Cape
Tygerberg Hospital
Tygerberg Hospital
Please note, this list is constantly updating and is not final.
Media Liasion

 

Officers Database
DEPARTMENT
MINISTER
NAME & SURNAME
CONTACT
Communications
Stella Ndabeni- Abrahams
Nthabeleng Dlamini
073 222 5522
012 427 8010
ndlamini@dtps.gov.za
082 469 3997
mish@doc.gov.za
Agriculture, Land reform and Rural development
Toko Didiza
Reggie Ngcobo
082 883 2458
reggie.ngcobo@gmail.com
Sports, Arts and culture
Nathi Mthethwa
Masechaba Ndlovu
0124413630
0828584415
masechaban@dac.gov.za
Basic Education
Angie Motshekga
Hope Mokgatlhe
012 357 4035/ 079 817 0427
Mokgatlhe.h@dbe.gov.za
Cooperative governance and Traditional Affairs
Nkosazana Dlamini Zuma
Mlungisi Mtshali
082088 5060
Lungim@cogta.gov.za
Justice and Correctional services
Ronald Lamola
Crispin Phiri
081 781 2261
phirichrispin@gmail.com
Defence and Military Veterans
Nosiviwe Mapisa-Nqakula
Joy Peter
012 355 5832
082 990 0407
joy.peter@dod.mil.za
joymandisayahoo.com
International Relations and Cooperation
Naledi Pandor
Lunga Ngqengelele
ngqengelelel@dirco.gov.za
082 566 0446
Trade and Industry
Ebrahim Patel
Sidwell Medupe
079 492 1774
012 394 1565
msmedupe@thedti.gov.za
Mineral Resources and Energy
Gwede Mantashe
Nathi David Shabangu
073 852 1922
Nathi.Shabangu@dmr.gov.za
Environment, Fisheries and Forestry
Barbara Creecy
Albi Modise
083 490 2871
Albi.modise@environment.gov.za
Public Service and Administration
Senzo Mchunu
Vukani Mbhele
083 307 8964
Vukani.mbhele@dpsa.gov.za
Health
Zweli Mkhize
Dr Lwazi Manzi
0826788979
Lwazimanzi@gmail.com
lwazi@spierfilms.com
Home Affairs
Dr Aaron Motsoaledi
Siya Qoza
082 898 1657
Siya.qoza@dha.gov.za
Higher Education, science and Technology
Blade Nzimande
Ishmael Mnisi
072 566 0827
Ishmael.mnisi@dst.gov.za
Small Business Development
Khumbudzo Ntshavheni
Sarah Mokwebo
(Chief of Staff & Act MLO)
073 137 3505
smokwebo@dsbd.gov.za
Social Development
Lindiwe Zulu
Sharlene Naiker
082 673 5849
SharleneN@dsd.gov.za
Police
Beki Cele
Lirandzu Themba
082 884 7106
Themba.lirandzu@saps.gov.za
Lirandzu.themba@gmail.com
Presidency
Jackson Mthembu
Nonceba Mhlauli
072 623 3462
nonceba@dpme@gov.za
Public Enterprise
Pravin Gordhan
Sam Mkokeli
082 084 2051
Sam.mkokeli@dpe.gov.za
Finance
Tito Mboweni
Mashudu Masutha-Rammutle
Mashudu.Masutha@treasury.gov.za
066 040 8581
Public Works and Infrastructure
Patricia De Lille
Zara Nicholson
079 416 5996
Zara.nicholson@dpw.gov.za
State Security
Ayanda Dlodlo
Mava Scott
076 095 2350
Mavas59@gmail.com
Tourism
Mmamoloko Kubayi-Ngubane
Hlengiwe Nhlabathi 
064 754 8426
hnhlabathi@tourism.gov.za
Employment and Labour
Thulas Nxesi
Sabelo Mali
012 337 1997
082 729 5804
Sabelo.Mali@labour.gov.za
Transport
Fikile Mbalula
Ayanda Allie Paine
074 823 7979
painea@dot.gov.za
Human settlements, Water and Sanitation
Lindiwe Sisulu
Sputnik Ratau
082 874 2942
rataus@dws.gov.za
Ministry in the Presidency for Women, Youth and Persons with Disabilities
Maite Nkoana-Mashabane
Mmabatho Ramompi
076 480 3513
Mmabatho.Ramompi@women.gov.za
mmabatho75@gmail.com
However, if you have any feelings and questions regarding the CA COVID-19 Website, Please kindly DROP A COMMENT below and we will respond to it as soon as possible.
Be social by sharing this post with others and don't hesitate to Like Us on Facebook to share, discuss and get the SA COVID-19 latest updates.