SANTS Online Application 2023/2024, SANTS Admission Form 2023, And SANTS Registration Process For 2023 first year applicants and second-year applicants.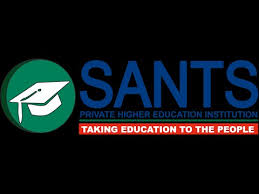 The management of the SANTS Private Higher Education Institution hereby invites application from suitable candidates for admission into the college Diploma in Grade R Teaching, B Ed Foundation Phase Teaching and B Ed Intermediate Phase Teaching programmes for the 2023 academic year.
Interested First & Second Applicants should follow the information provided below.
FIRST YEAR APPLICANTS
The following steps should only be completed once the application status has been amended.
1. Obtain and complete the SANTS application form.
2. Return the completed application for admission form together with the following:
Certified copy of Identification Document (driver's licence not accepted);
Certified copies of your highest qualification (Senior certificate/ Matric certificate/ relevant school leaving qualifications/certificates.
Pay the R250 non-refundable application fee.
3. All applications that meet the requirements above will be evaluated against the relevant admission/entry requirements for each programme offered by SANTS. The outcome will be communicated to applicants in writing.
4. Successful applicants will receive conditional admission to the programme applied for. The conditions for admission will be clearly listed in this letter. This letter will allow applicants to apply for student loans and bursaries with the institutions listed below.
5. The applicant needs to complete and sign the acceptance of admission form accompanying the conditional admission letter and return it to SANTS with documentary proof that the conditions stipulated in the conditional admission letter have been met.
6. On receiving the acceptance of admission letter and proof that the conditions stipulated in the conditional admission letter have been met the applicant will be registered as a student at SANTS and notified of the registration.
Please note that the number of applications received by far outnumbers the spaces available at the institution. Therefore, meeting the minimum requirements for application does not guarantee admission to the institution. Further note that even though we strive to provide wide access we are obligated to comply with the stipulated entry requirements so as to facilitate the provision of quality education.
---
SECOND YEAR APPLICANTS
---
Students must apply for re-registration and submit proof of the first payment for the following year in order to continue studying and re- registered as a student in the original registered programme at the institution.
Once the re-registration form and proof of payment has been received the applicant will be re-registered as a student as SANTS and will be notified of registration and year of study in writing.
Please note no re-registration will be done if any fees from the previous year of study are still outstanding.
CONTACT DETAILS
SANTS
PO Box 72328
Lynnwood Ridge, 0040
Enquiries: 087 353 2504 or [email protected]
Fax no: 012 348 7037
SANTS BANKING DETAILS
Name:                     SANTS
Bank:                       First National Bank
Branch & Code:      Menlyn 252-445
Account number:   62438872261
Payment ref:           Applicant's ID Number & Surname