University of Johannesburg, UJ Online Application Form PDF Download for 2021 academic year.
The University of Johannesburg (UJ) online admission application form 2021 is open to all interested applicants irrespective of colour, race, ethnic identity, religion, gender, or national origin, provided they qualify for the programme for which they have applied.
VERY IMPORTANT
• Please read the instructions carefully and complete all applicable sections.
• Incomplete forms will not be processed.
• Only ONE application form per applicant.
• Please allow 3 weeks before checking on the status of your application. You can do so by going to www.uj.ac.za/Apply where you will also be able to print a letter regarding your application status
ADMISSION REQUIREMENTS 
Undergraduate – Please consult the "UJ Undergraduate Prospectus 2021" obtainable from www.uj.ac.za/Apply for full details of the admission requirements pertaining to the programme for which you intend to enrol.
Postgraduate – Please consult the relevant Faculty/College or visit www.uj.ac.za for more information.
ENQUIRIES
Direct further enquiries about your application to:
011 559 4555
www.uj.ac.za
DELIVERY ADDRESS
AUCKLAND PARK
KINGSWAY CAMPUS
cnr Kingsway and University Road
Auckland Park, Johannesburg
POSTAL ADDRESS
STUDENT ENROLMENT CENTRE
PO Box 524
Auckland Park
2006
All International Applicants
For any assistance, you may contact the Division for Internationalisation Office before applying:
APK: +27 11 559 4517
APB: +27 11 559 1027
DFC: +27 11 559 6510
SWC: +27 11 559 5014
international@uj.ac.za
www.uj.ac.za/International
UJ Online Application Form 2021 PDF Download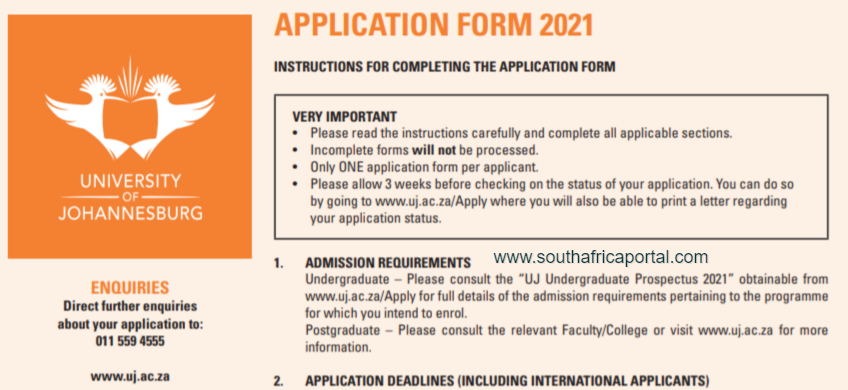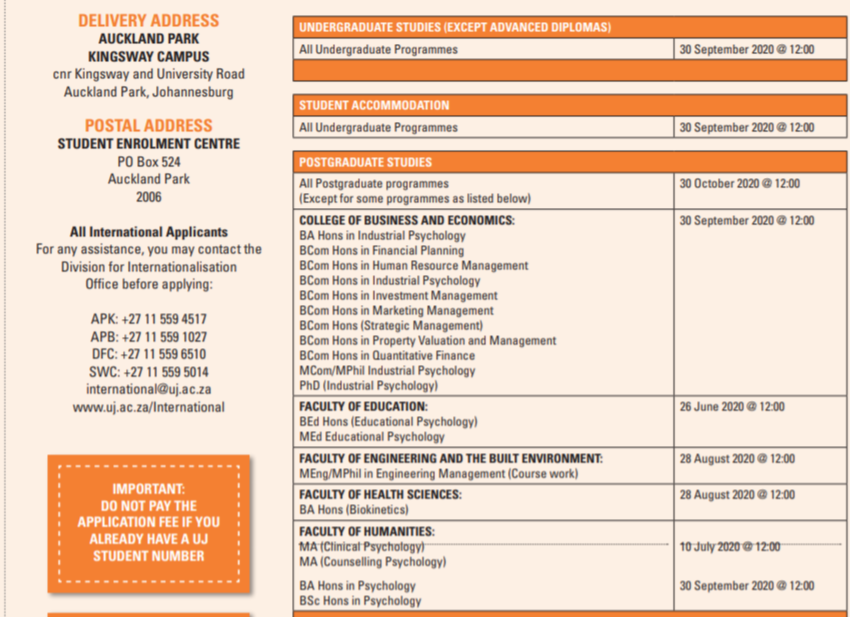 BE SOCIAL BY SHARING THIS POST WITH OTHERS!!