Dr Tumi: Biography of Dr Tumi, Real Name, Age, Wife, Career, Songs & Net Worth,
Dr Tumi (born 10 July 1981) is a South African gospel artiste, songwriter, producer and medical doctor. His real name is Tumishang Makweya.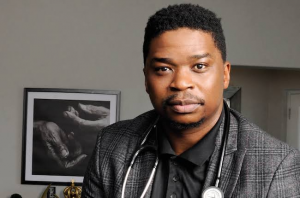 Dr Tumi Age
He was born on 10 July 1981 in Seshego, Limpopo, South Africa. Dr Tumi is 39 years old as of 2020.
Dr Tumi Education
He graduated as a medical doctor from the Medical University of Southern Africa (Medunsa) in 2006.
Dr Tumi Wife
He is married to Kgaegolo Makweya who also doubles as his manager. The marriage of over ten years is blessed with three children; Bokamoso, Khumoetlile and Onalerona.
Dr Tumi Career
After graduating from medical school, Tumi started off working in the public sector but eventually quit and delvesd into private practice. He still runs his private practice in Mabopane, north of Pretoria.
He launched his musical career in 2007 with a musical group called Intense. His stay with the group was not for long as he had to split from the group due to personal reasons. Since then he has gone solo and has rocked the music industry with soul-inspiring songs and albums.
Dr Tumi Albums & Songs
Heart of a King
Songs
Royalty
My Rest
You are Here
Son of God
Mighty God
All of Me
Your Name
King
Heart of a King
Prelude
I am Tumi
Open Doors
Decree
Jesus Song
Everything
Love and Grace
Songs
Faithful
Zoe
Loved
Forgiven
Most High
Dr Tumi Nothing without you
All I need
No other God
Love and Grace
I love you Lord
I believe
Grateful
I love it here
We love you lord
Grace
Be free
Speak a Word
Songs
Worthy of all our praise
Open heaven
Crushing in you
Speak a word
Trust and obey
Because of Jesus
There's no other name
None like you
You alone
Someone like me
Holy
Jesus lives
I love you, Jesus
Raging fire
Beauty for Ashes
Songs
Beauty for ashes
Seated on the throne
Arise
There's none
There's none
King of glory
I'm loved by God
Overflow
The blood song
In the presence
I receive
Consuming love
Wafika
Overflow
Dr Tumi Net Worth
He has an estimated net worth of $300 000 which he has earned from his successful career as a medical doctor and a musician.
Instagram
SHARE THIS POST WITH OTHERS: