Smoke & Mirrors Teasers – July 2023 | Full Details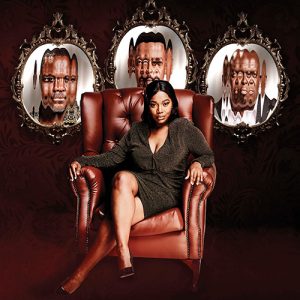 We are delighted to inform you about Smoke & Mirrors Teasers – July 2023 | Full Details
Coming up on Smoke & Mirrors this July 2023:
Monday 3 July 2023
Episode 56
Lulu promises not to tell Mandla about Milly's entanglement with Mpendulo. Caesar and Thandiswa wake up together and she instructs Caesar to stay away from her.
Tuesday 4 July 2023
Episode 57
A phone call from a panicked Nomeva prompts Sakhile to find out, with Nthabiseng in tow. Martha is unnerved by the sight of a mysterious character sitting in her hotel bar.
Wednesday 5 July 2023
Episode 58
Mandla expresses disappointment in his daughter. Milly and Fanyana try to understand what happened. Martha approaches the stranger.
Thursday 6 July 2023
Episode 59
Mthetho tells Mandla that the only way he's getting off is if Nomeva drops the charges. Mandla begs a reluctant Lulu to convince Nomeva on his behalf.
Friday 7 July 2023
Episode 60
Mthetho checks that Mandla hasn't spoken to anyone about Samson's death, and he asks some leading questions about Milly.
Monday 10 July 2023
Episode 61
Ngcuka comes for Jaxon and scares him. Sakhile assures Nthabiseng that he has closure with Thandiswa. Sindi has found a goat seller.
Tuesday 11 July 2023
Episode 62
Jaxon is obstinate when Ngcuka reminds the triumvirate that the magic they required for success comes at a cost. Milly blames herself for Fanyana's thrashing.
Wednesday 12 July 2023
Episode 63
Nomeva leaves out some food for Samson to redress the problem of putrefying milk and finds that Samson has eaten his meal.
Thursday 13 July 2023
Episode 64
Failing to get answers from Thandiswa, Mpendulo goes to see Sakhile and the two work out that they might be father and son.
Friday 14 July 2023
Episode 65
Leroy arrives to find Mthetho's state having exacerbated due to his now infected wound. Mthetho refuses to go to the hospital and Leroy takes him to Nomeva instead.
Monday 17 July 2023
Episode 66
Mthetho collapses and is rushed to hospital. Leroy and Caesar are both deeply worried, but Ngcuka says it's proof that his prophesies of doom are correct.
Tuesday 18 July 2023
Episode 67
Leroy appeals to Nomeva to help save Ngcuka. Ngcuka warns Leroy to stop interfering in Mthetho's healing. Mamiki's date ditches her.
Wednesday 19 July 2023
Episode 68
Nthabiseng and Mpendulo's relationship turns a corner. Mamiki is tired of dating rich men and getting her heart broken. She sets her eyes on Magolide.
Thursday 20 July 2023
Episode 69
Jaxon unravels in a very public fashion and hurls threats at a man notorious for dark magic. Thandiswa decides to do the right thing and tell the truth.
Friday 21 July 2023
Episode 70
Thoroughly spooked, Jaxon sleeps in his office for the night. Mamiki is mortified when Magolide assumes that she's been stood up again.
Monday 24 July 2023
Episode 71
What will Caesar do when it is up to him whether Mthetho lives or die? He actually rises to the occasion and makes a pact with the devil in exchange for Mthetho's life.
Tuesday 25 July 2023
Episode 72
Lulu reveals to Magolide that Mamiki is interested in him romantically. Magolide comes to Mamiki and finally asks her out on a date.
Wednesday 26 July 2023
Episode 73
Both Leroy and Martha plead with Mthetho to release Mamiki and Magolide, but Mthetho is determined to prove that he stands on the side of law and order.
Thursday 27 July 2023
Episode 74
Mthetho reluctantly agrees to find a way to murder Millicent. Alone in the salon, and the electricity is still crackling between Caesar and Thandiswa.
Friday 28 July 2023
Episode 75
Caesar convinces Mthetho that they can't give up and Mthetho in return reveals he has an idea for how the trio can snatch Milly.
Monday 31 July 2023
Episode 76
Jaxon, Caesar and Mthetho come up with an insidious plan to kidnap Millicent. Caesar and Marelise decide to run a raffle competition.
Premiere episodes of Smoke & Mirrors air on e.tv from Mondays to Fridays at 21h00.
SHARE THIS POST WITH OTHERS!